OnkaBob, thanks for the compliment. My dad recently retired and this is his dream shop, its bigger than his house by a few feet! He has worked hard all his life to get to this point and he deserves it. So I am trying to make it the best that it can be. Oh, and if the family wants to spend time with us. They will have to come out to the shop!
Matt, I'm sorry you hate me
But think of all the cool stuff I can build when its done!
Here is the progress from today.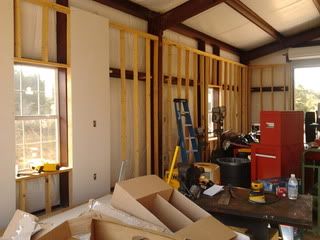 All the drywall is up! All 65 sheets of it. That was alot of work. Lots more work to do. But I can see the light at the end of the tunnel.