My granddaughter decide we needed to do a trip while she was down here. Her dad tried to tell her it would be miserable,no trying to convince a kid and a 15 year old female of that was useless ,so we headed to the Brazos at 5 yesterday ,. My put in was across some private land and the sand bar we launched from had weeds 6 ft tall , machete time. Well folks it was hot loading the boats,but as soon as we launched a nice breeze came up and it was pretty nice.
The boats we were in ,my New Northwind, The Crusier ,a fast racing type perow and the Duck ,the boat I built for the rec class racing.
Derrick in the Duck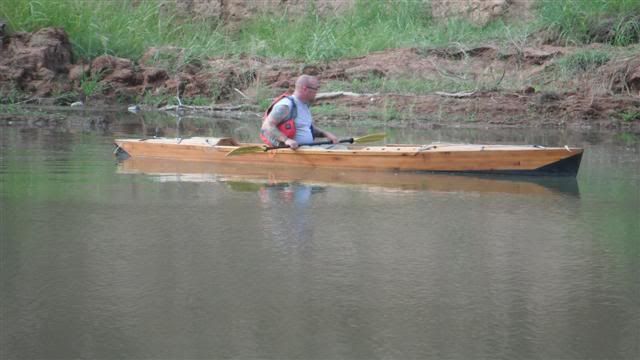 Cork in the Crusier
I was in the North wind
We paddled pretty easy and saw a lot of wildlife , two fawns with spots still on them ,a couple beavers that were so dang big I thought they were small hogs, and a few hogs, a bunch of bird life.
30 minutes before dark we started looking for a good bar to camp on ,lucked out and found one and had camp set up before dark. I was using my cot and a small tent that is attached on top of it.
To be continue
Ron