Another adventure in the books and as is the norm we had a blast.
I still cant believe we couldnt catch any mullet in the cast net ,you could see then jumping
but no luck catching them. Well a couple gaspers and we were in business.
The gar were hitting really light and we had over 20 takers before we hooked up with this one. That is worse than normal for these fish.
I found out I can still bounce, dang , about 2 in the morning one of the rods bowed over and line was being taken hard and fast, we had a glow stick on this rod and it was going crazy,the rod was the greatest distance from us ,about 50 yards. I jumped up and started running for the rod
about that time the glow stick disappeared ,oh crud rods probably being dragged into the water, I really hit high gear then and boooooooooooommmmmmm a limb was ticking out of the sand caught me right above the top of my boots, no chance to recover ,it was instant I was on my face sliding across the gravel bar ,I jumped up finished running to the rod and luckily it was in the grass then the gar dropped it.I bet he was watching us and laughing.
Darrel and I just sat down and rolled as I checked to see if everything still worked.
Just after daylight Darrel was taking a nap and one of my rods went off ,I let her run and then hammered her ,alright a good solid hookup ,I didnt realize one of Darrels rods went of he woke up and hammered her ,i started putting presure on the fish and she swirled ,Dammmmmmmmmm that fish was twenty feet long ,then I heard Darrel yell and realized both fish were together in front of me ,Darrels fish made a run and cut my line. Oh well we still have one on.
The gar was giving Darrel all he wanted ,he commented about how strong this fish was , after awhile he finally got her up and she was still full of fight , every time I would start to snare her she would go balistic peel a hundred yards of line off. Finally we got her landed
thats when Darrell really got a look at her she was huge.
We taped her and checked her for tags and then I noticed where she had been shot in the head right above her eye.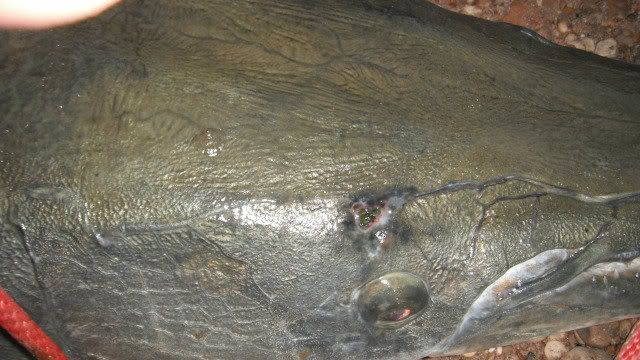 then Darrel noticed the roofing nail in her gill plate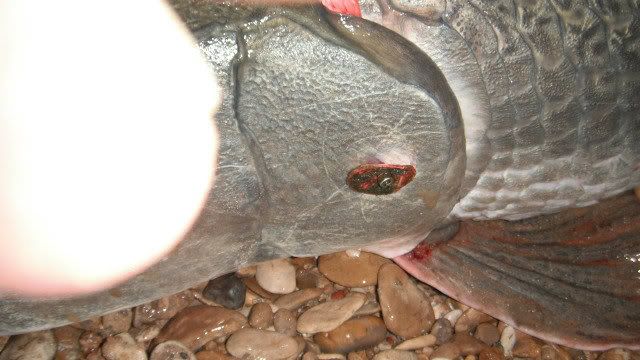 I can imagine how that got there it is solid bone, took a heck of an impact to drive that nail through it
We took the measurements from her she was a blocky heavy fish,I tried picking her up, I started grinning looked at Darrel and said buddy you have your 200 lber , try to pick her up and he couldnt . He looked like a kid with a new toy.We were laughing because the gar was growling at us, and expanding her head to about twice the normal size
We released her and she lazily swam of ,that was one tough ole gal
Now Darrel isnt a little ole boy but this pic gives you an ideal of the size of this fish.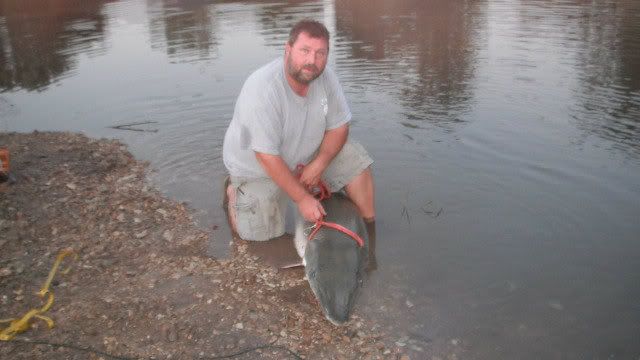 To wrap this up another good trip , two boats that are awesome and a friend that cant be beat.
Ron