Matt, (and anyone else with an opinion on this)….. a question.
Since building the CF, I've been storing it on the work bench it was built on.
As space is at a bit of a premium, I have to work out where and how to store her permanently.
I'll make a cradle or sling arrangement against a wall but from a space point of view it would be preferable to have her sitting on her side rather than upright….saving myself a few inches…..yes space is that tight at the moment.
My question is: Do you think there is any greater risk of deformity of her shape if supported as shown below, rather than flat on her hull?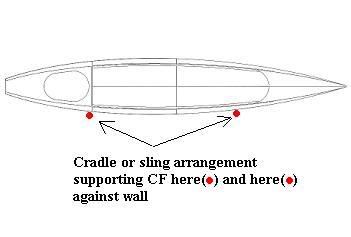 Note: I have to get her off the work area so I can start the next build!!!