pogue3one wrote:
what are the scupper tubes made of and did you use epoxy to secure them?
My scupper tubes are 1.50" OD X 1.25" ID fiberglass tube that I got from McMaster-Carr
http://www.mcmaster.com/
part number 8535K72
Scottrunnr's Tandem Fishing SOT build page (Page 6) has a link to another place to get tubes.
Mine are epoxied in, I made some squares from scrap 4mm ply and drilled a 1.50 dia hole thru some and a larger hole thru the others. Then epoxied one of each together. Made up 4 glue ups total, 2 for each tube, 1 for the top, 1 for the bottom.
Trimmed and shaped the ones for the bottom on the belt sander. The larger hole is on the side with out the curve.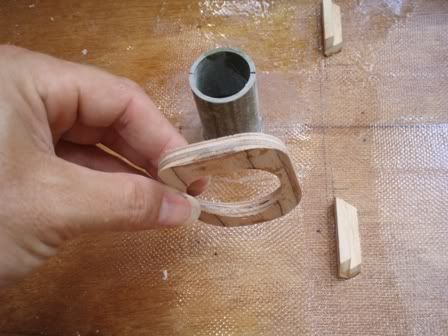 The using the cockpit and tankwell to locate the tube and keep them in place. I traced the out line of the tube at the hull and gooped some cabosil thicken epoxy inside the outline and set the tube into it, still using the CP and TW as guides.
After that cured, carefully remove the TW & CP, mixed up more cabosil/epoxy and gooped it at the base of the tube, then slide the bottom plate down into it.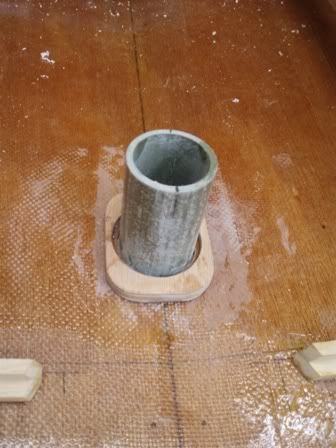 Then filled the ring on the top side with cab/epoxy, also poured some into the bottom of the tube to make sure any gaps were filled.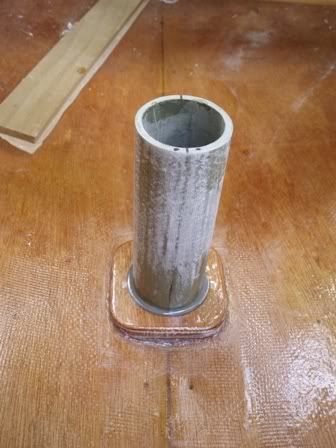 Top plate was about the same, the supports on the side of the tube are epoxied on first, then the plate sits on those
and the top is gooped with the cab/epoxy and the the CP or TW is brought down on top of it.
Then when it is time to cut the hole thru the hull, a 1.25" hole saw on an drill extender fits right inside the tube.
Oh yeah, every thing was given two coats of plain epoxy along the way.
Hope this helps.
DM