I got all of the hull panels glued up and planed down to 3/16". So far, using the pin nailer is working pretty good. I did some testing before trying this. I made some test panels from the same cedar I'm using. After pulling the pins I went over the panels with a steam iron. After it dried, the holes were almost invisible. I glassed the test panel and I had to really look to find the small holes, and I knew where they were. I don't think they will show at all on the finished boat. These pins are about the size of a straight pin.
I set the patterns up on my two 2' X 8' tables placed end to end. By using both pattern halves together, it is easy to adjust exactly to the QA measurements. After I got them to the measurements, I screwed them down to the table.
I placed the corresponding panels on the pattern, and again used the pin nailer to fasten them down. In the past I used double sided tape to hold the panels in place. On the Sasquatch I built, I had to replace one panel that slipped while routing it. That was when I decided to find something better than the tape. This gun and a box of 3000 pins for it was about $25.00. It's easy to spend that on double sided tape.
I adjusted the air pressure to set the the pin just below the surface. These little pins are headless, so it is easy to just pull the panel up off of the pattern after trimming. I only used six pins per panel, two at each end and two in the middle. They hold really well to keep the panel from shifting to the side, but allow the panel to be pulled straight up with little effort. The pins all stay in the pattern and easy to pull with pliers.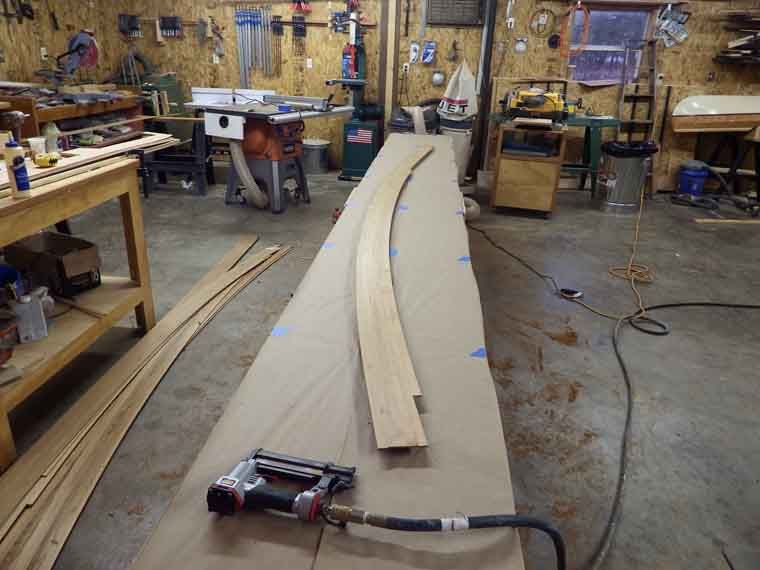 I used a router with a pattern bit to trim the panel to the pattern. I have one of the small Bosch trim routers, but I do not really care for it. I prefer the stability of a full size router. I think it is more stable and easier to control. Many people like the small routers, but I have never found a use for mine.