Phishtech wrote:
Excellent job, Tor, and beautiful wood grain
of course the back end is usually the prettiest, I'm glad I took the time to match as much of the grain as i could. Unfortunately the other grain is more subtle and I haven't been able to capture it in an image.
My little helper got to paddle with me first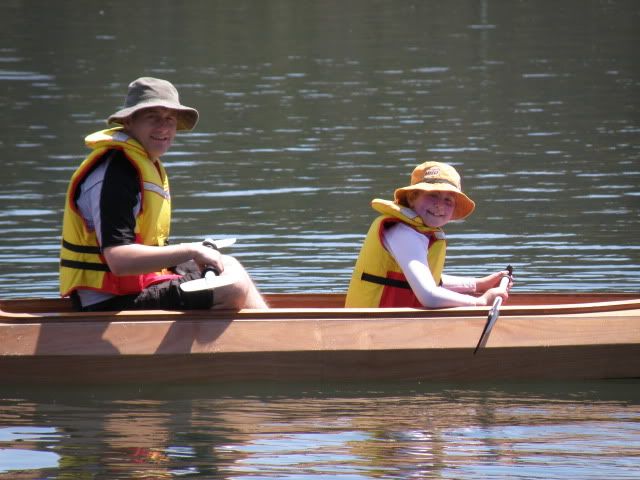 We had 2 up
and 3 up
and eventually I got a go all by myself.
well how did it paddle you ask, I shall tell you.
jem wrote:
Careful on that seat height. Maybe too high, maybe not. Depends on your sense of balance. Hate to see you get wet on the first push off!
The seat height was great solo or with a little 'un, it became a little tippy with another adult in with me
I've discovered I can't paddle...
I can put a paddle in water and make the boat move but my control leaves a lot to be desired. Now this may have been the balance of the boat (especially when two up) but I'd be tracking nicely, adjust a little to the right then paddling like mad as we over steered. Paddling by myself was better.
It was as stable as I expected, tuned beautifully and tracked line a train. It was so different from the flat bottomed symmetric canoe. I have to say that to compensate for my dreadful paddling I did think I should have fitted a rudder, but then I guess I'd never learn to paddle properly.
it weighs 22kg without the seats and 29kg with seats and paddles.
According to my GPS I was paddling at an average of 4km/h with a max of 9.4 and I paddled about 8km with various changes of crew, max speed two up was 9.7km/h just before we lost complete control and nearly went around in a circle...
Can't wait to do a little fishing from her in a couple of weeks on a not so far away lake during a camping trip. Just need some fitting out
Thanks Matt, great boat might have to build another now so we can all paddle, I so can't go back to the DK now...
PS she bounces well on the road too, when I tried to put it back on the car I dropped it from about 3 feet, made a hell of a noise but hardly a scratch and no breaks