The pile of wood is starting to look like a boat so I better start referring to her in the feminine, its probably frowned open these days but for more than one reasons that has been the practice.
I choose the Issaquah 14 to replace a 90lb Colman type canoe that has been a royal pain to portage so I'm keeping track of where the weight is going.
I'm using 4mm Okoume BS6566 ply at 12lbs per sheet, all the parts for the hull cut to shape weight in at 20lbs
7 liters of Epoxy and containers come in at 15lbs
I haven't weight the cloth yet but I got 6oz for the outside and 4 for the inside
If I can get the weight around 40lbs I'll be happy, I dare not go too light with the first boat, around here its not a question of if your going to hit a rock but how many and how hard.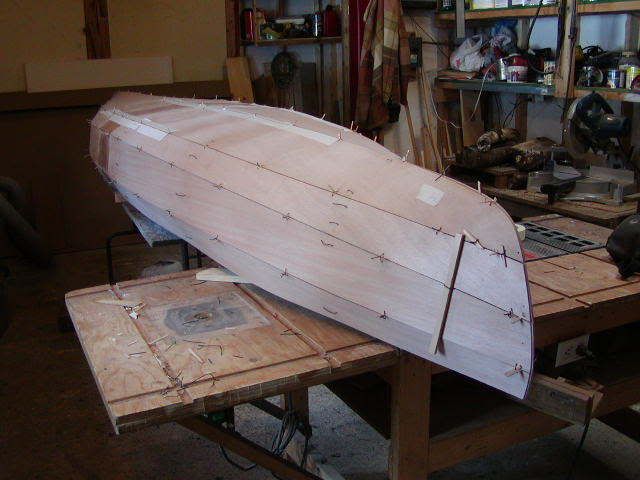 I really like the shape, might have to build some smaller paddles
I was really concerned about pulling the ply in around the stern, didn't think it would take up that shape without a cracking sound so far OK. I stitched through from one side to the other and added pieces of wood to spread the load.
Lesson learned, don't use bailing wire to stitch even if its handy go to town and get some copper wire you will glad you did.
Colin