The boat is complete and just went on her first trip.
I built simple plywood seats (must add some non slip) and coated the bottom with what turned out to be 2 very thick coats of graphite/epoxy I tried to keep the mix at 20% by volume but the resulting goop was hard to roll on in thin coats I reckon the 2 coats added nearly a pound of weight, with the rocks around here it probable won't last long.
The final weight with yoke and seats came in at 44lbs, it should be possible to come in 4-6 lbs lighter with some of the changes previously discussed plus less graphite.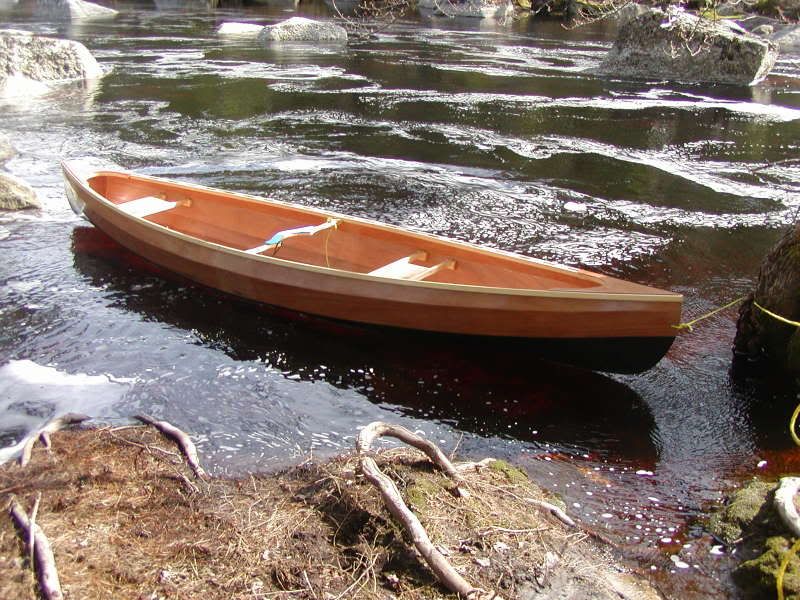 A sample of the type of rocks in the background that lurk just below the surface waiting to grab the bottom in our area.
The boat has performed very well as part of our first sea trial we took her out in a channel between a head land and an island with a fetch of about 4 km the wind was blowing a steady 20 kmph with higher gusts producing a nasty steep chop, not the conditions I would normally choose to go out in.
We had 2 small adults plus a 50 lb dog , who was less than thrilled, for a total of 300 lbs on board, we sat on the seats and never felt the need to assume the kneeling position although the ride was certainly lively, as one would expect plowing into it a fair bit of spray came aboard, I was expecting trouble going beam to the seas but everything was fine just the odd spray from wave crests, you definitely wouldn't want any lose heavy objects around though. We are also both used to how small boats handle in a seaway.
After that we felt confident enough to take the canoe on our first trip of the year through
Kejimkujik
national park and into the
Tobeatic
wilderness a round trip of around 30 km on water plus 10 km of portages which partially explains my fixation on the issue of weight. The canoe is light enough to pick up from the ground and place over your shoulders in one easy motion which produced more than a few curious looks from other canoeists compared to anything else I've ever carried its a joy but after 2 km you can still feel every ounce, the next one will be lighter!
On the water with the extra weight of packs of another 80 lbs for a total load of around 380lbs she was just hitting the sweet spot carrying her way well with great stability and not feeling at all loaded or sluggish, I would guess another 100 lbs of gear low down would only have improved things. For such a short canoe she kept up well with other canoes, in one 4 km stretch into a 10-15 kmph wind we pulled away from a couple of 17ft canoes, no doubt it would have been the other way around in calm conditions but the easily driven hull was easier to push into the wind and chop.
Altogether a great light tandem canoe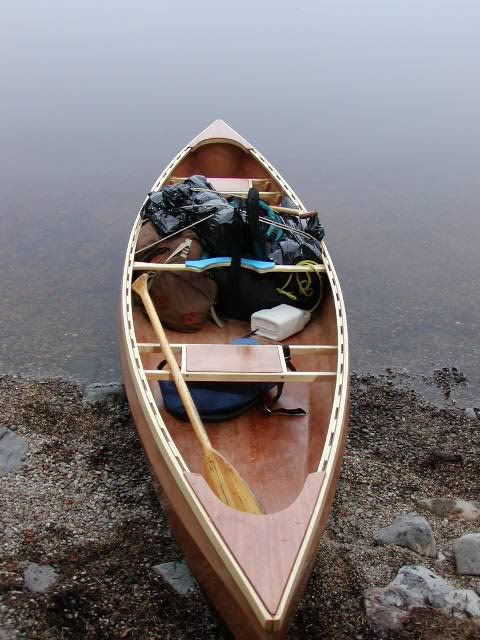 Loaded ready to go, the space between the yoke and the front seat is reserved for the dog, I never added any stiffening to the bottom panels and haven't noticed any significant movement except when running over some granite boulders, which was probably a good thing.
The graphite already has a few scratches in it through to clear epoxy which is to be expected, nothing stands up to granite boulders without a few battle scars.