I spent most of this week finishing off insulating the stern fish storage area. I use the aft storage area basically as a large cooler for what I catch. On hot summer days I had to put 10-15 lbs of ice in there to keep the fish fresh. So I figured a few pounds spent on creating a water-tight insulated area was worth it.
Below are the steps I took. I used pink foam-board insulation with a layer of 1.5mm ply over it to make it water-tight. The seams where fileted and glassed. I did the front & back ends first. Then I worked my way from the bottom left/right sides upwards.
1. Below is the foam-board installed with Liquid Nails to the back of the rear-bulkhead.
2. Below is the 1.5mm Okume ply filleted to the hull and quarter-round over top of the foam-board.
3. I ripped some pine and glued on the hull bottom centerline to provide a glueing/support base for the ply. Then I used liquid nails to put the foam in.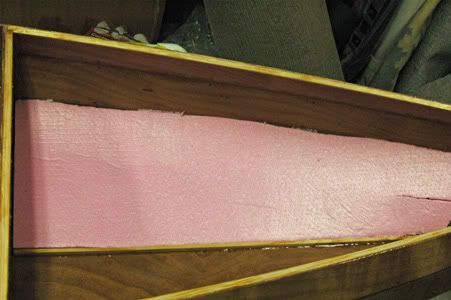 4. I forgot to take more pictures along the way. The finished pictures are below. Basically I used epoxy/wood flour to fillet the bottom panels to the ripped pine at the centerline, to the hull up higher, and to the front/back ends. The centerline seam was glassed. Then I did the next panel up on left/right. Foam in and then ply filleted to the bottom one just installed, the hull higher up, and the ends. The lower side was then glassed at the seam. I repeated this working my way up to the quarter round supports for the deck.