A lot of dust flying today...I think I'm going to try a dugout canoe next and use a circular saw only
01/01/05 - Drug everything out of the garage to the patio for a morning of saw dust making...Lesson learned from my last boat, do all the cutting out of the garage, saw dust will get everywhere...Here is the fruit of my labor...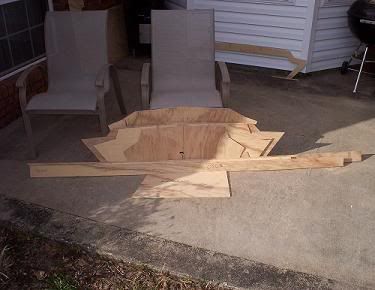 All frame templates are cut, as well as the stringers, transom and motor well panel...
Chalk's building tip of the day.... When you cut all the frames (bulkheads) out, stack them up in there building order i.e. 1,2,3. Doing this will allow you to see if anything is miss cut or looks out of place. Look left to right at each piece in the stack and look for errors. I found an error today doing this.... Stack them like this....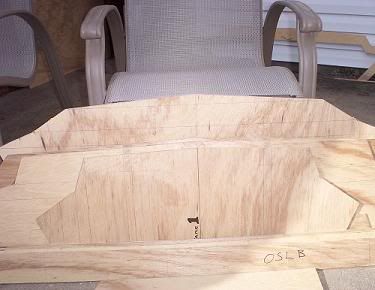 I thought two frames looked a little suspect, upon a look at the drawings and a measurement, I found that both were off in "Y" by an 1/8"....Here is a shot of me fixing one of the frames....
Tools needed to get this far - Sheetrock square, 40 inch ruler, 16 inch combination square, tape measure, pencil, sharpie, two sawhorses, 4 clamps, 8 foot batten (laying out long points), calculator (deviating from the plans
), circular saw, rotary saw, belt sander, orbital sander (I sand all my cut edges, less splinters), extension cord, hand saw and a good back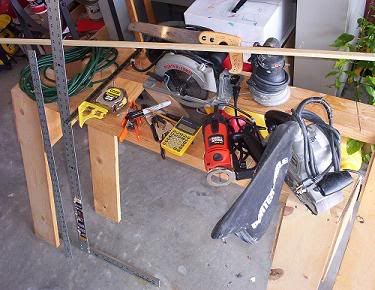 To be continued....