Ray....
If you're talking about the black graphite finish on the hull, I got my graphite for the Cape Fear from the local hardware store. The same stuff they sell for freeing up locks, etc.
A couple of those little puff bottles (about 50gms each) was enough for three coats on the hull and cost about $12.
Mix your resin as for a normal coat and stir the graphite through thoroughly, making sure you stir out any lumps that form. It ends up being a thicker consistency and is a bit harder to apply evenly.
I applied mine using a roller as with normal resin coats but also used a plastic paint scraper to move some of it around if the roller wasn't spreading it easily, and then running the roller over until it was right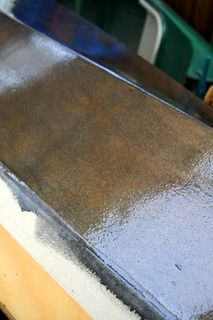 This was after the first coat.
A light sand between coats and after the third coat the finish was jet black.