Yahoooo!!!
The Trapper was launched at Rainbow Beach on the weekend
It's not supposed to be like this in Queensland, but the weather was terrible, with constant rain and squally winds (It was even a bit cool)
Eventually though we got enough of a break in the rain (not the wind) to take her for a quick test paddle
First impressions are that she performs beautifully, every bit as good as I hoped.
IT will probably take a trip or two to fully asses her potential I guess
Two up it was stable, tracked well, maneuvered easily and slipped along at a handy pace despite the windy conditions.
Solo was a bit different, with the bow up and less hull in contact with the water it was difficult to turn across the wind. Once headed into the wind though it was no problem to keep control and make good head way. Tracking solo was OK though not as good as when loaded. The comment was that it was begging for some camping gear on board
All in all we couldn't be happier with the trapper.
I say we because I built her for my sister & brother in-law (Nickname-"Roo") who will be the proud new owners when I have finished tidying her up. They used have a 14ft fiberglass canoe, and "Roo" reckons the Trapper is half the weight, he couldn't believe it. We tried to weigh it with a couple of electronic bathroom scales but we couldn't get it clear of the ground and read the scale, so will have to get back to you on that one.
There's also more pic's and a video to come when I can get it organised
I'll try to get some closer shots of the seats as well, if we ever get some fine weather
Roo takes the maiden voyage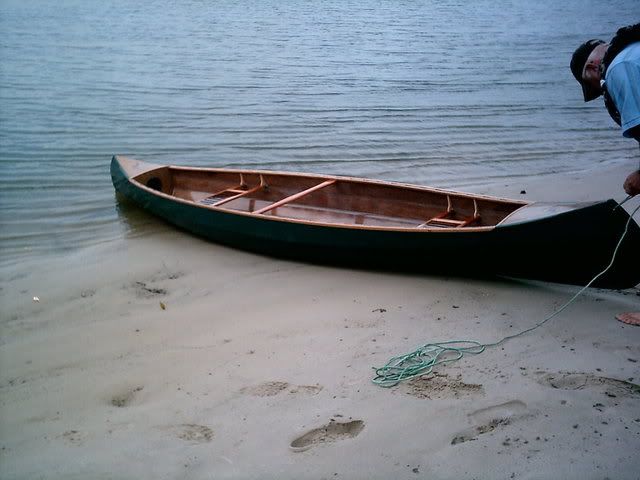 Fair bit of weight to support there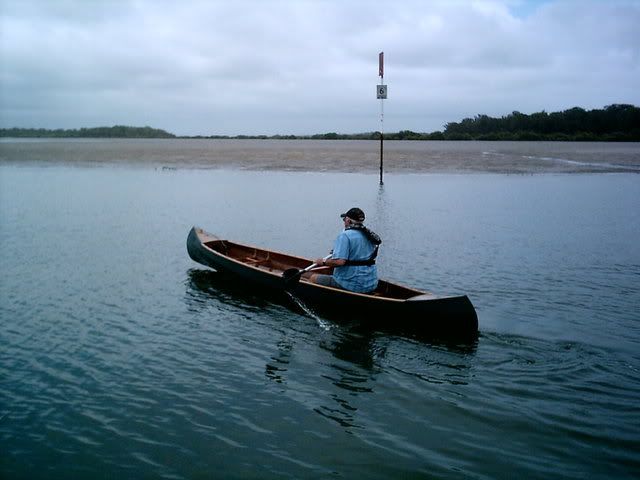 Kneeling helps get the nose down and improves tracking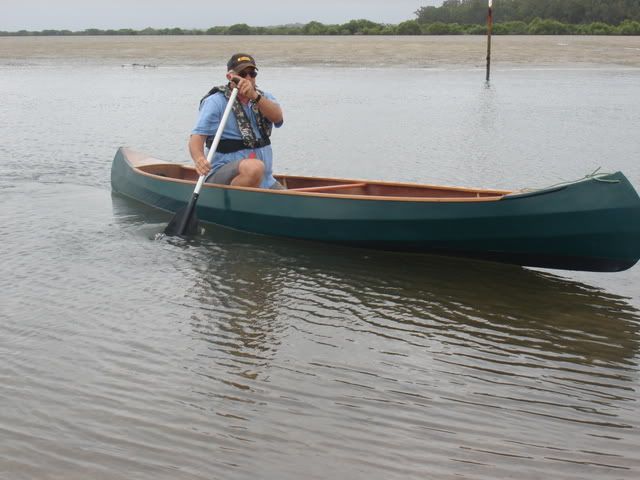 Roo & I take the Trapper for a spin
Rob