Was paddling the Laker the other day and after a coupla hours got to being uncomfortable (Probly on account of I still haven't really sorted out my seating arrangements properly)
Anyhow got to thinking it would be nice to be able to stand up and stretch, and/or fish standing up when I felt like a change of body position. So I put my thinking head on and came up with this. It's by no means a final draught, and if it doesn't pan out then I'll have four little holes to fill in, where the Ubolts are.
The whole thing cost less than $10 'cos it's made from various bits of
Treasure
I had lying around. You know the stuff that might come in handy one day. Pool noodles cost $4 for three, unfortunately three different and decidedly crappy colours. Aluminium bits are from a Walking frame I found in a second hand shop for $8! Couldn't leave it in the shop it must have been really worth $50 second hand. It had been a fully height adjustable frame. The aluminium is very thin walled but I spose has to be strong on account of yer do get some really heavy folks resting on them.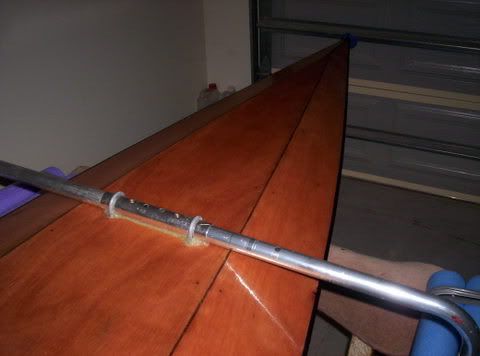 It's all deployable while sitting in the boat and "unployable" (that's one of my words) also whilst sitting in the boat.
Only thing that could rust are the springs that hold the brass buttons out. Am sure I can find replacements for them... or make some.
The best part of it is the weight, or lack thereof. The whole thing comes in at 650g. Thats 1.43lbs!
If it doesn't work I've wasted a coupla hours. I think it will and will let you know the outcome.
P.s. 48" wide overall, and fully take-apartable. Probably should add the "gooey" stuff under the central tube is just a bed of silastic.