I am Dan from the Philippines, retired here from the US and I am getting serious about my free time. Last week I finished a Puddle Duck Racer that I am very pleased with, but now on to new horizons.
I have chosen Morten's 12 foot row boat because I have had several small boats in my life but always power boats and I want to experience the pleasure of rowing a boat designed for rowing. I can also use it for fishing in the Davao Gulf. Two days ago I started lofting the pieces from four sheets of 9mm plywood.
I was fortunate enough to buy all of Morten's plans for his one price. What a deal! Now I have to try to build them all? Well, the wife says "Where's mine?"
I have a lot of fun work to do and it should look something like this when finished.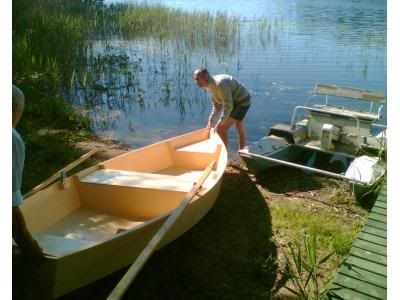 Here is the before picture with one more sheet of plywood to cut up.
Here is the boat I just finished.
I will keep you posted. Now let's see, part A is to part B as BA is to AB....
Dan in Davao