Well, I packed up the family and drove half way across the country to visit my wife's parents and fish for some northern pike and walleye.
Here we are at a rest stop somewhere between Missoula and Butte, MT.
I brought the Sabalo and the Cedar Strip Touring Pirogue.
On 6/29, I went out with my father-in-law and my 5 year old son Erik to Gravel Lake for an evening of northern pike fishing (or so I thought).  For the duration of this report, I will refer to them as what we mid-westerners call them, 'northerns'.  
We trolled about 200 yards from the launch when,at the same time as Erik exclaimed "Daddy, I have to go potty now!", I hooked into a small northern.  I quickly reeled him in and beached the boat so Erik could use Mother Nature's restroom.  We got back in the boats and within 3 minutes, he had to go again.   He also said that he wanted to go back to shore.  The lake was rough due to the wind gusts and he didn't appear to be having as much fun as other times that I have had him with me.  I want him to enjoy fishing and not have a bad experience so we decided to pack it up for the night.
On 6/30, I  went out fishing by myself and couldn't keep them off my line.  I caught 12 in about 3 hours and lost a few more.  Too much slack in the line I guess.  I was trolling into the wind and when I would stop paddling, the 20 mph winds with the 33 mph wind gusts would blow me very quickly towards the fish.  It made for some fast reeling.  By the time I would have the fish off the hook, I would be blown into the reeds when I was on the downwind side of the lake.  When I was on the upwind side, I would be blown about 100 yards or more out towards the middle of the lake.
The launch was a little calmer than the return. The wind picked up about 20 minutes into it.
The fish were biting my red and white Cotton Cordell redfin.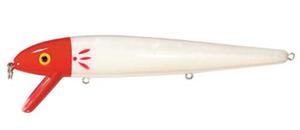 I have probably caught 75% of the pike, in my lifetime, on this lure.  It runs about 3-4 feet deep when trolled which is perfect for trolling over the top of weedbeds.  I bet it would work well for musky, too.  They make several color combos, but the red and white is the only one I have caught northerns on.
I documented the trip with my new GoPro HD Hero camera.  I noticed one weakness with it. That is its ability to take good photos of a fish you are trying to measure. there is no view-finder (which I was aware of before the purchase), the camera relies on its 170 degree fisheye lens to ensure it captures a braod area.   I forgot my Hawg Trough at home so I was using a tape measure which also made it a little more difficult.
Here are some the fish caught:
little guy
Most were about this size or slightly smaller.  Its hard to see the measurement, but it was slighly over 18 inches.
I learned here, that I should have held the fish closer to the camera.  It looks a little smaller than it was but, either way, none were trophies.  However, all were fun.
Underwater shots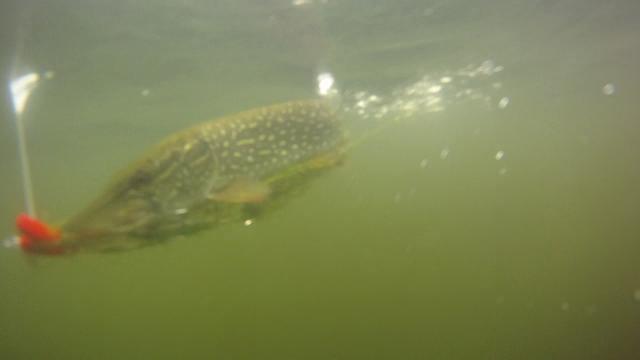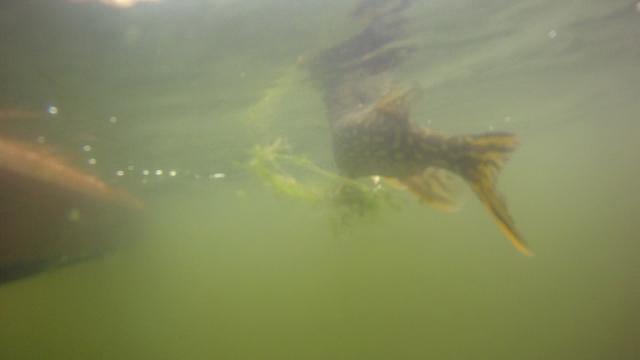 That night a big storm with 60 mph wind gusts came through. I don't know if that is why they were feeding so agressively, or not.
I got some video, but my laptop (old), which we brought with us on vacation, is too slow to watch or edit the HD footage.
When I mentioned that I got this boat slimed, I meant it. Northerns are very slimy fish, and this one coated my cockpit. Here is a series of photos I pulled from a video.  I'm just glad this wasn't a larger fish, or worse yet, a toothy ling cod. I apologize for the extreme paleness of my legs
. It has been a really rainy year in the Pacific Northwest, so I have seen very little sun
.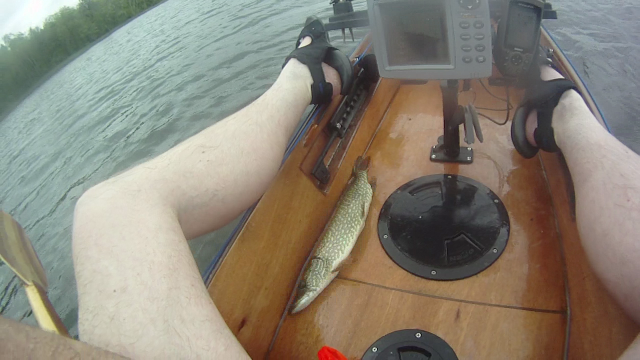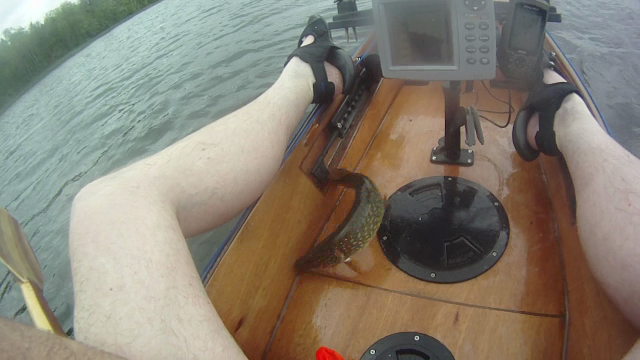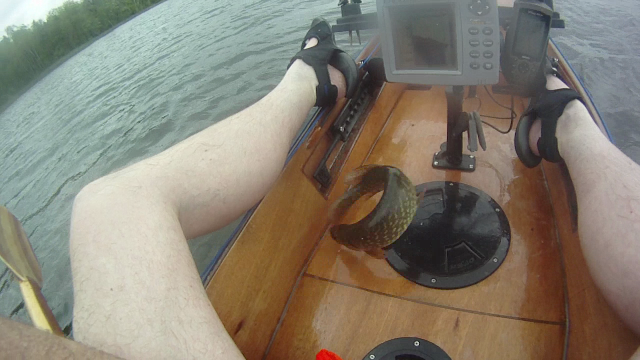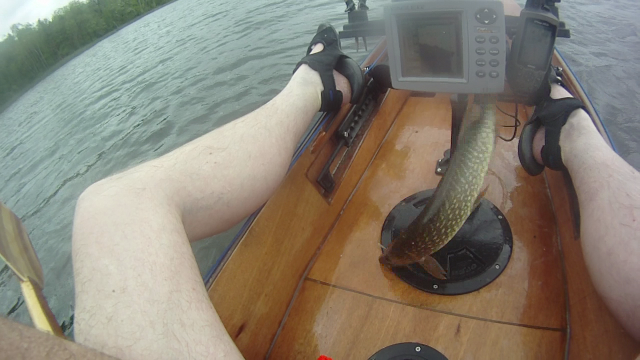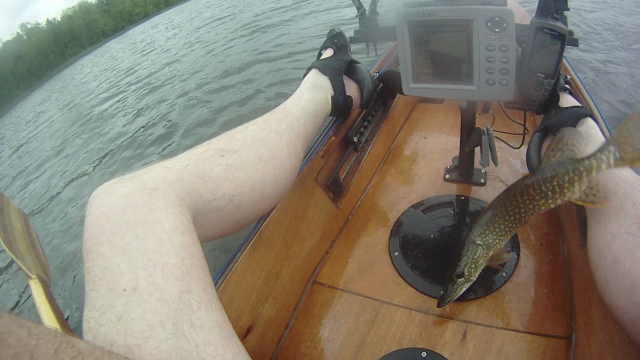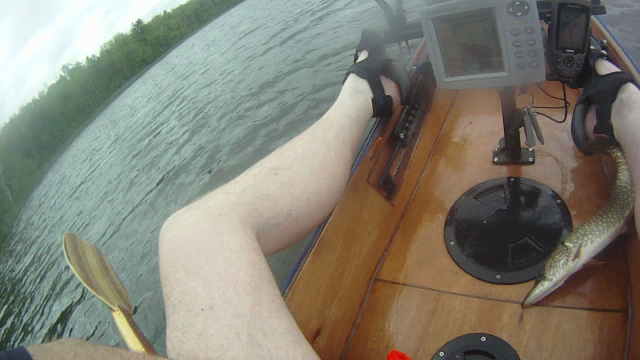 The flopping in the cockpit lasted awhile.  It made me wish the scupper holes were a little bigger.  
I had caught one larger fish and when I pulled him up, I couldn't make up my mind if it should be beer battered northern bites or not.  It was about 24 inches and would have weighed about 2.3 lbs according to a size chart on the the "all-knowing" internet.  During our stare-down, he realized what I was thinking, and decided that it wasn't his day to die. Therefore, with one powerful flop of this "leviathan's" body, it slapped me and shook the hook out of its mouth and went back home to eat its family.
The return was much rougher.  At the time I wrapped up, NOAA reported 33 mph wind gusts.  As you can see, the waves at the shore are much larger than when I started.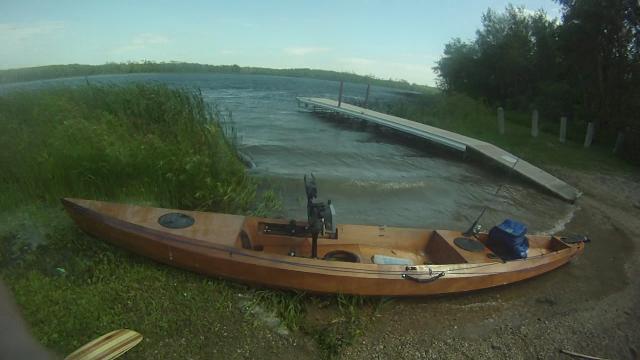 I went out the next evening on a much larger lake and it was dead calm.  Its a good thing that it was a beautiful night for a sight seeing tour, because there sure were no fish to be found.  I went through my entire arsenal trying. Had a beautiful sunset, though.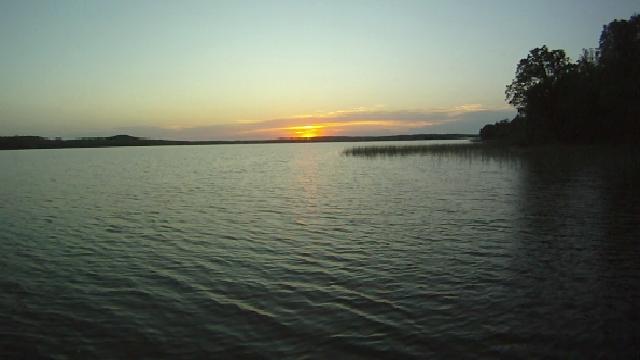 There were a few lessons learned.  Mainly, when your wife tells you to wear sunscreen, don't do a half-a$$ed job putting it on.  If you do, you get really cool looking burned spots (and other interesting patterns) all over your legs.  Also, if you are wearing sandals, take them off when applying it or you get really neat bright red stripes on the tops of your feet. And, might I add, painful.  Common sense, I know, but I was excited to get going and have a little "me time" in a place with no cell phone reception.  Which, by the way, drains the battery really fast.