I went back down to my usual sturgeon fishing hole on Monday afternoon and I was shocked at how high the water level of the river was. Here is the Sabalo floating up in the limbs of a tree.
The sonar said I was in 8 feet of water. These trees are normally high and dry on the beach. The water on the Willamette River is backed up due to flood stage waters on the Columbia River. The water also came way up the driveway down to the boat ramp. It made it easier to get back out, I didn't have to drag the boat as far when I was tired.
I had thought the salmon bite had stopped so I only brought sturgeon and bass tackle. When I first got there, a couple guys were fishing from Seyvlor inflatables. One of them had just caught a native chinook and had released it. He said he has been catching them just off the shore from park the last couple days. I should have brought my salmon rod and spinners.
After paddling around a bit and talking to these guys, I went and dropped anchor. A short time later, I thought I caught a very lethargic monster of some sort but, it was just a very large, old water logged piece of wood. It took about five minutes to reel it up it was so heavy.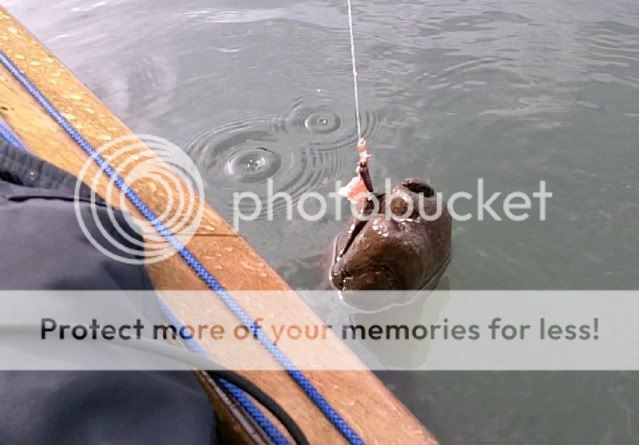 After a couple of misses, I finally hooked into a good one. Once again, I only seem to catch a keeper, when you can't keep them. The fish had a seriously messed up face. It's very recognizable. He must have been hit with a boat prop early in life.
He tried to slap me when I was trying to land it.
Here is a front view of its face.
I had to pull stills off the GoPro video camera since I was alone. So, I didn't get a real good shot of it.
I had several other misses after this and I started thinking there was something small slowly nibbling off the bait. I was right. It was this little dude.
He was maybe a foot long if he was lucky.
After a while, I decided to try my luck at some smallmouth bass. Unfortunately, that didn't work out for me, but it was still a fun afternoon.
Man I love this Sabalo! It is such a great fishing platform.