Took the Jem Paddle Board out for a little central Texas fun a couple weeks ago. Put in at the 1120 crossing a few miles outside of Leakey and did whats known as the Happy Hollow float. I usually tube this section but on this day I did it standing up.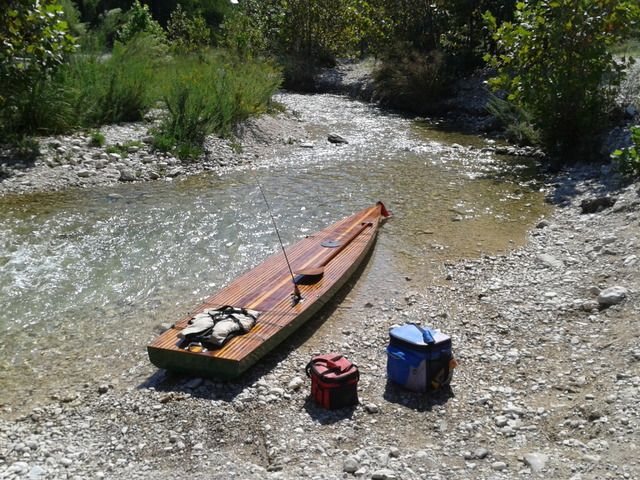 The water is so dang clear here its like tap water. One of my favorite rivers in Texas. Its a fun river to fish also, it has a lot of structure. Large boulders, rocks, and tree stumps. Consecutive rapids followed by pools of water. Caught several bass but nothing big on this trip.
http://www.youtube.com/watch?v=BhEp86Hw2V4
At the end of the trip there is a good spot to jump off of. My brothernlaws enjoyed them selves while I videoed from the board. During the summer this is a really cool spot to hang out. By the time people get to this point they have already been in the water for hours and are generally pretty intoxicated. It can get crazy sometimes
The next day we put in at flat rock crossing in Leakey and paddled to the next crossing. We had never done this trip before so the wood boats had to stay at home. About the only time I use plastic boats anymore is for exploring new sections of the river. And its a good thing because there was a pretty good section of rapids I dont think I could have negotiated on a paddle board very well.
This wound up being my best fish of the weekend. This section of the river was less traveled and the fishing was not bad, we prolly caught 20 bass total. Its was a great trip. The only bummer thing was when we were loading up the truck a police officer pulled up and told us that we were not supposed to park here. We parked well away from the bridge and were not blocking any driveways or anything. I do this stuff all the time. I guess he wanted to dampen our fun, but we were done anyway
On the way back home I took the scenic route. Stopped at one of the outlooks and took this pick.