Dear all,
I'm new to this forum! My name is Fredrik and I'm living in the northern part of Sweden, close to the polar circle. I've just ordered the plans for a Bluefin and while waiting for them to arrive, I've started to prepare for the build. The kayak will be used for fishing in Norwegian fjords and one of the primary goals with the build is to keep the weight as low as reasonable. For that reason, and because good quality plywood is difficult to find, I've decided to try the SS&G technique. Yesterday I ripped approx. 60 strips with a length of 4,8 m (16 ft) down to 22*9 mm. They where subsequently planed down to 7 mm (little-bit more then 1/4 inch).
Today I've glued my first test panel using Titebond III. For my previous boats, I've always used epoxy, so this glue is a new experience for me and I'm very interested to try it out. From the specifications it looks very promising, the only concern is the recommended clamping pressure which certainly is higher then what I can reach when gluing the panels. To test the performance at lower clamping pressures, I simply glued a couple of strips, just by pressing them together and keep them fixed with a couple of staples.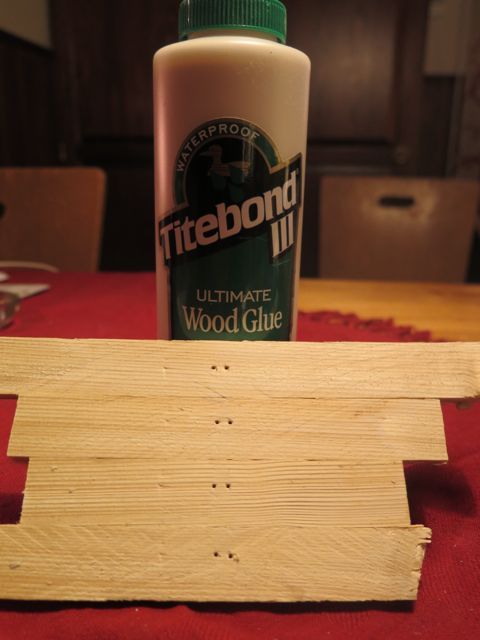 The wood is "gran" or "Norwegian spruce" (Picea abies). Very light, very strong, very many knots... Glues very well and well suited for strip building if you plan to paint the hull. And as you can imagine, at our latitude all wood are slowly grown.
The planed surface went to the backside where excess glue is pressed out...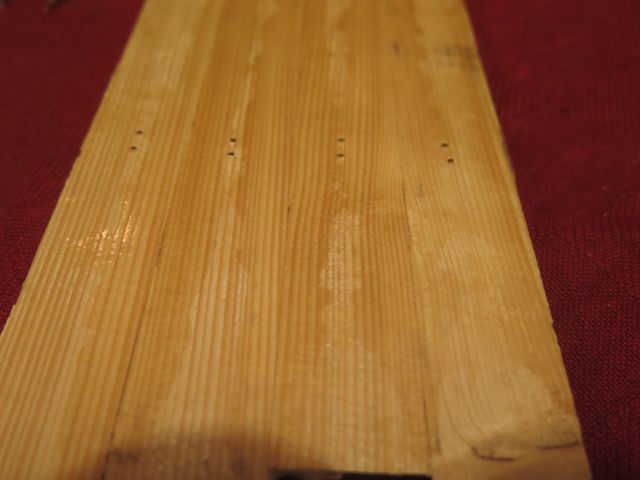 Is there any reason to worry about the ability of epoxy to bond to the glued surface? I imagine that I have to sand the surface before sheathing it?
Tomorrow, I will break this panel to get a feeling for the strength of the glue under these conditions.
/Fredrik