I am starting a Sasquatch 16-33. I bought the plans about the time Mick finished his, but never built it. I was in Arizona at the time, but have since retired from the National Park Service, and we moved to Norfork lake in north Arkansas. This will be my fourth stitch and glue boat. I built a Swamp Girl and two electric boats in Arizona. I was building in the garage there, but at least I have a heated shop now.
My wife and I have fished for many years, but mostly from bass boats. We want something reasonably light weight but large enough to carry two of us on day floats. We are in easy driving distance of the White and Buffalo rivers. The Sasquatch seems to be just about right for what we want.
This canoe has ten panels with three sections for each panel. I cut one template of each piece needed (from old plywood) and used it to mark each piece. This way I was able to try to match the grain and color of each piece. I was able to cut all thirty pieces from three sheets of plywood. I used the router table to trim each piece to match the template. That's quicker and easier than trying to cut and sand each piece to the line.
All thirty pieces cut and ready to assemble.
It has been pretty cold here, so I used two 250 watt heat lamps to help the epoxy set up. I did not want to have to keep the whole shop warm 24 hour a day just to let glue set up. I'd run out of firewood if I tried that!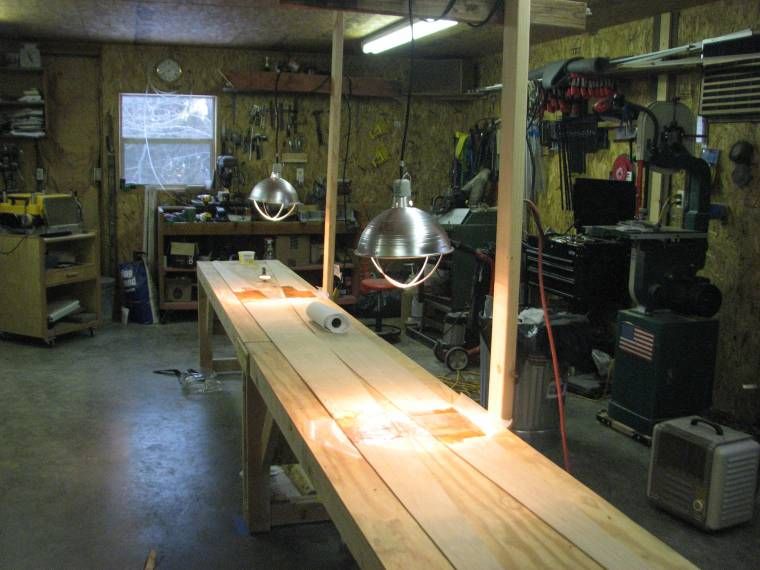 Finally! all panels glued up and ready to assemble. It took a week to get them all glued up.
I hope to start assembling them tomorrow.