I have started two Sabalo's that my wife and I have wanted for a while. I am probably not going to document every step of this build. I think Neon14 did an excellent job documenting his Sabalo 12 build, so I am going to just hit the high points. I am going to use cedar strips for everything except the bottom panels. The only useable cedar I have found in this area is 8' 2X4's and 4X4's from Home Depot and Lowes. They do not stock cedar decking here like they do in some parts of the country. I ripped up a bunch of strips last fall and stacked them to dry. They were pretty wet when I bought them.
I cut a pattern for each panel needed. I cut them from osb board this time. I used cheap 1/4 inch plywood for the patterns on the Sasquatch, but I think the osb will work better. It's also cheaper. I trimmed my patterns to exact size on the router table. I them laid them out on the table, and set them to exactly match the QA measurements in the plans.
I drew the outline on the paper on the table, covered with wax paper and assembled the panels to the lines. I did not want more holes than necessary to fill, so I tried something new this time. I used my 23 gauge pin nailer to fasten the strips in place. These little pins leave a very small hole that is almost invisible when finished. The small plywood strips help hold them down.
After the glue dried, I pulled the blocks straight up off the pins. These pins are headless, so the blocks pull off easily. I then pulled the pins with pliers. I think it is going to work very well.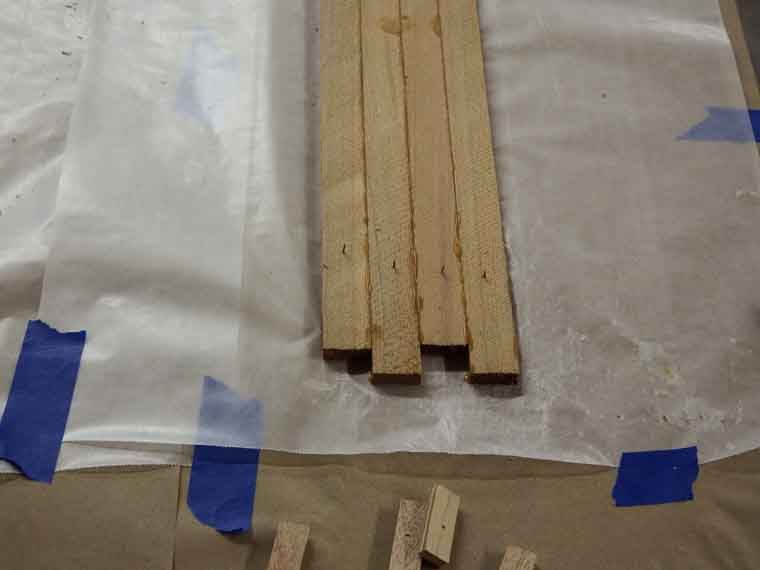 Now it's just a matter of gluing up the rest of the panels.